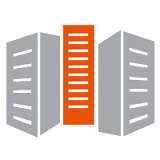 Services offered through a partner provider.
25,000 sq. ft. purpose-built, standalone, windowless structure rated to withstand 160+ MPH sustained winds
8″ thick solid concrete walls w/steel reinforcement
Poured concrete over steel roof with multi-layer protective membrane
24″ raised flooring in data center space
Power and cooling
N +1 Generac Bi-Fuel Generators
N +1 APC Modular UPS
N +1 Liebert CRAC Units
APC Infrastructure DCIM
Security
Physical
Mantrap at facility entrance
24×7 on-site security personnel
Recorded video surveillance throughout interior and exterior with minimum 30 day retention
Multi Factor Authentication access control system
Customer access log retention
Regular background screening for all employees
Cyber
Exclusive partnership with Shorebreak Security to provide Lifeguard, which is a continuous vulnerability scanning service with multiple intrusion detection and prevention systems
Physical and virtual firewall options
Custom security deployments
Connectivity
General
Multiple redundant fiber optic telecommunication networks delivered with diverse conduit entry to the facility
Carrier Neutral
Multiple on-net providers
AT&T
Level 3
TW Telecom
Bright House Networks
Other in house providers/partners
Harris-Caprock
Colocation
General
100% Power SLA
24x7x365 unescorted access
All colocation protected by redundant N+1 UPS systems, generators and cooling units
Cabinet, cage or private suite
42U or 48U private locking cabinet
Fully redundant power options available starting at 120V/20A
Cage
Private security cages starting at 10'x10′
Multiple space and power configuration options available
Multiple rack and cabinet options available
Private Suite
Build to suit based on your specific requirements
Power, cooling and security are all customizable
From 2,000 sq. ft. up to 8,000 sq. ft.